CLAIRE O'REILLY soprano

Lyric Soprano Claire Joanne O'Reilly began her vocal education in her native Germany. She went on to study singing at the Royal Conservatoire of Scotland, where she received acclamations, including The Norma Grieg French Song Prize, the Frank Spedding Lieder Prize and the Hugh S. Roberton Scots Song Prize.

After receiving first place in the latter, she began to dive into the Scots language and Song, beginning a life-long love affair with the genre. She has recently worked with the "Scots Opera Project", coaching new and adapted works in both Scots and Gaelic, with the help of Joy Dunlop.

She has recorded much Scots repertoire with her husband, composer Kevan O'Reilly, and looks forward to similar upcoming projects in 2023. Other commercial recordings include Malcolm Arnold's complete works for voice and piano for Queen's Temple.

She has sung a wide variety of repertoire including Jazz, Concert Repertoire and Opera on many stages around Europe. She is a dedicated voice teacher and choral conductor in her adoptive home of Glasgow, as well as in Germany and the Netherlands as a regular guest vocal coach, adjudicator and conductor alike.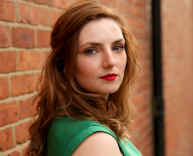 SCOTT MITCHELL piano

Scotland-based pianist

SCOTT MITCHELL has performed extensively as a chamber music pianist and accompanist throughout Great Britain, Europe, South America and the Middle East. As a result of his varied chamber music activities he performs regularly at St. John's Smith Square, Purcell Room and the Wigmore Hall in London. He has also appeared at many of the world's major festivals including the Edinburgh and the Festival Wiener Klassik.

As a recording artist Scott Mitchell has released CDs for Chandos Records, ASV, Collins Classics, Black Box and Tosca Records. He has recently recorded Dave Heath's Piano Concerto, "The Passionate", with the BBC Concert Orchestra, recently released on the Freestyle classics label. He is a regular performer on BBC Radio 3 and Classic FM and has also appeared on Channel 4 and the satellite Arts Channel.

Scott Mitchell has performed with John Wallace (Trumpet), Michael Collins and Emma Johnson (Clarinets), Raphael Wallfisch (Cello), Andrew Watkinson (Violin), Richard Watkins (French Horn), James Bowman (Counter-tenor) and Andrew Kennedy (Tenor), also with the Duke Quartet. He performs regularly in a duo capacity with flautists Wissam Boustany, Katherine Bryan, Lorna McGhee, Ruth Morley and Yvonne Robertson, also clarinettists John Cushing and Maximiliano Martin, saxophonist Simon Haram and cellist Sarah Oliver.

In competitions he has been awarded the Lisa Fuchsova Prize for outstanding chamber music pianist and the Eric Rice Memorial Prize for outstanding accompanist, both at the Royal Overseas League Music Competition in London.

Scott Mitchell is a Senior Staff Accompanist and Senior Lecturer in Piano Accompaniment at the Royal Conservatoire of Scotland in Glasgow where he was recently made a Fellow and where he also taught piano at the Junior Department. He was also a member of the accompaniment staff at Napier University in Edinburgh and also one of the founding members of the Cantilena Festival on Islay, a Festival for strings taking place on the island of Islay every summer.