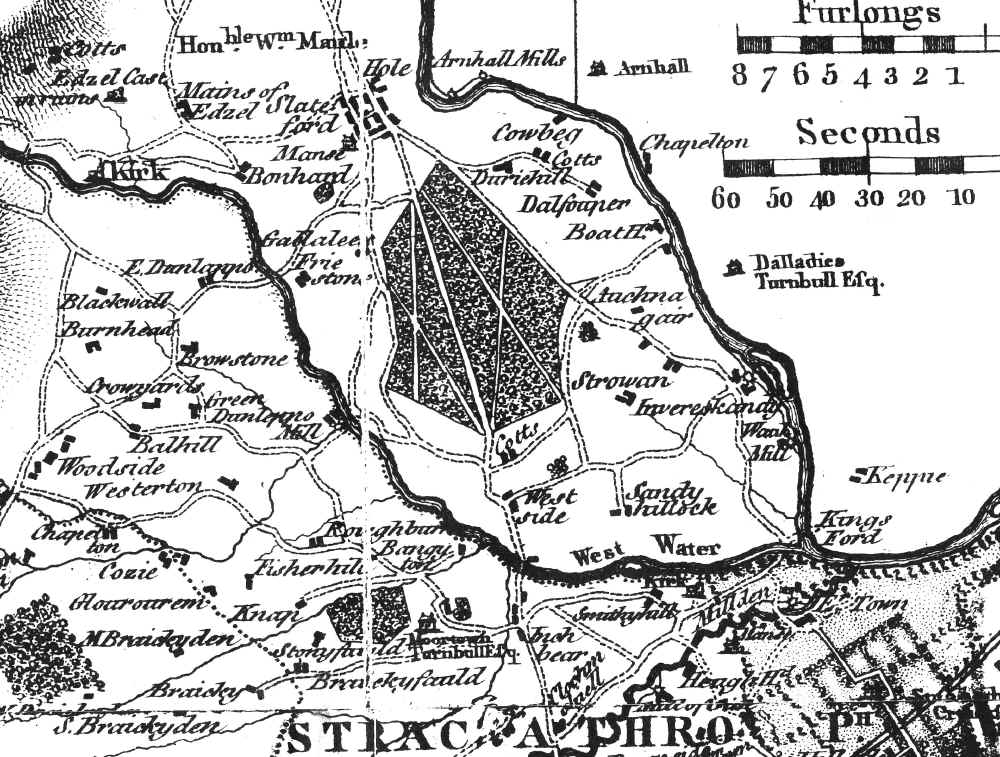 John MILNE was baptised on April 29th 1787 at Edzell, Angus (or Forfarshire) in Scotland, the "lawful son to James MILNE subtenant in Dalphupper". He married a Yorkshire woman Ann WALKER in 1816 at Arksey Church near Doncaster, when his name was spelt MILAN, though almost certainly pronounced MILLAN, a pronunciation that lived on for another hundred years.
His death, from injuries 'by breaking down of a coach' descending Pourie Brae on its way to Forfar occured in November 1837 and he was buried in Dundee as John MILAN, leaving "six children to deplore the irreplaceable loss". (Local Gazette, Dec. 1st 1837)
His wife's family, especially on her grandmother's side, can be followed at Arksey right back to Thomas TIRWITT and Ann HURST's marriage on October 12th 1567.
In Scotland, however, the picture is much less clear. The 18th century saw two Jacobite rebellions, great movements of whole communities and a Scottish law that afforded scant protection for its many year-by-year tenants. Subtenants and cottars had only very short leases, nearly always under seven years, and were answerable to the main tenant, or tackman, who acted as middleman. The laird, in the case of Edzell, was a LINDSAY until James, the fourth Earl of Panmure took possession in 1714, only for the latter to have his estates confiscated just a year later for his adherence to the house of Stuart.
After obtaining long leases from the York Buildings Company William MAULE eventually bought back the properties for the family and the N.A.S. has detailed plans dated 1766, drawn by William PANTON M.A., of the Edzell farms and townships between the River North Esk and West Water, including Mill of Inveriscandye, Burnroot, Sandyhillock, Struan, Westside, Slateford, Upper and Nether Dalfouper, Braehead, Dooryhill etc.
It is interesting to compare these locations with John Ainslie's 1794 map of the area, which still shows a William MAULE as the landowner, though A.J. Warden (Angus or Forfarshire, 1855 Dundee) suggests that in 1767 the estates were disponed by the Earl, in the case of "Slateford, Braehead etc" to one John Bruce.
For much of this century the main tenants at Dalfouper would seem to have been members of the SMITH family, and this seems to have extended right up to 1841 at least. (Interestingly, a land register entry for 1856? has for Dalfouper a Charles John Milne CUTHBERT, and in 1881 the 140 acres were farmed by Chas. CUTHBERT and his sister.) There is a monumental inscription at Edzell to "John SMITH late tenant at Dalfouper (d.) 1813 (aged) 79 ...." and a land purchase agreement of 1806 (concerning James WANLESS of nearby Lundie) also mentions him.
By far the most interesting reference, however, must be that included in the account of the Jacobite Rab(b)le of 1714 at Edzell, when servants and adherents of the laird David LINDSAY (an Episcopalian) tried to prevent the new Presbyterian minister from entering the kirk to preach. Among the many miscreants named was "James SMITH, servant to David SMITH, in Dalfouper."
In his History and Traditions of the Lands of the Lindsays in Angus and Mearns Andrew Jervise quotes this report, from the Edzell Parish Register of October 30th 1714, which graphically illustrates the tensions and frictions that were to characterise so much of this period and of which the MILNES were inevitably a part.
The Statistical Account covering 1791/2, when John MILNE would have been four, gives interesting figures for Edzell, and especially mentions the subtenants, or cottagers. "This useful class of men, who are going fast out of fashion, form in their families the best nurseries of male and female servants."
In 1790 it would seem the family was still at Dalfouper, though the parish register this time has the name as James MILL, subtenant in Dalphupper, for the baptism of new son James. Unfortunately, I have so far not found any later trace of son James, which could perhaps have given us his mother's name, sadly so often missing from the Edzell registers.
This MILL / MILNE variation is a regular feature of the Edzell records. When Alexander MILNE and Isabella LOW lived at nearby Westside, two of their children (Mary and Jean, 1808 and 1809) were listed as MILL, with four later children as MILNE. Earlier, in the 1760s, David MILL / MILNE and Catharine MACHER were similarly divided, with three children MILL and three MILNE. Perhaps the most famous instance of MILNE / MILL transfer is that of the philosopher John Stuart MILL, born in 1806. His grandfather was James MILNE from nearby Logie Pert, a shoemaker and small farmer.
The earliest Edzell records have only the name MILL, starting with Elspit who married in 1645. Later, towards the end of the century, David penultimate LINDSAY laird kept a Rent Book which includes the entry: "Alexr MILL, 3 bols of meal and 1 bol of bear; 2 merks and a half of tind silver, 4 putrie."
There are MILL / MILNE entries in all the neighbouring parishs of Lethnot, Menmuir and Stracathro; but tracing precise family relationships is very difficult, and even working back to John MILNE's parents is problematical. On the balance of probabilities, though, I think his parents were James MILNE and Agnes ROGER (RODGER), who married at nearby Stracathro on November 23rd 1771. Both parents, fortunately, are listed at their early children's baptisms, Thomas 1772 and William 1774, while the family was at Newton, Stracathro, then later for Ann and George (1776 and 1778) when James was subtenant in Westside, just across the river into Edzell parish.
There is then a gap before James MILNE is mentioned again in 1787, this time as subtenant in Dalphupper (just a mile distant) at the time of John's baptism. At this period there are five or six James MILNES living locally (at least three of whom had a son John), so nothing is certain; but I think that 'our' James MILNE was baptised on January 5th 1752 at Stracathro to father Andrew, who was then living at Trailsound. (In 1758 when son William was born the location was Trealsound, and there are references to this location over a period of 100 years, with deaths being recorded there as late as 1865, so it is strange that it is now proving so hard to locate. But since when Robertson CHRISTIE lived there he was the church officer for Stracathro church Trailsound must have been close by, perhaps even just across the river by Struan or Westside.)
If James was born in 1752, was his wife Agnes ROGER born around the same time? We have no record; but in 1751 (and 1754) we do have Margt baptised to David RODGER tenant at Miln of Inveriskandy and Barbara JAP his spouse. Again notice how very close together all these locations are. Later, in the 1840s, a David MILNE was farming at Boat of Invereskandy, and when he married at Benholm in 1817 he was then living at Logie Pert, just five miles along the river from Invereskandy.
Note there was another David MILNE, perhaps also of local stock; but he was baptised at the church of St James, Westminster on March 27th 1791 to parents David MILNE and Abigail HILSON who had married there on October 9th 1785. David the father was a cabinet maker in Wardour Street, London, and their son also married at Westminster, to Rebecca Higgs in 1812, dying in London in 1836. (Information from Clive Milne Bacon)
As to why there were MILNE families in London, perhaps there is a clue in some of the hundreds of names in the registers at this period, with quite a few apparently Scottish names, Robertson, Mackay, McDonald, Bruce, Guthrie etc. Ron McGuigan's The Forgotten Army: Fencible Regiments of Great Britain 1793-1816 sets out how the early Scottish regiments were formed by the leading Clan Chiefs and landowners in the areas where they were recruited, at a time when the Napoleonic wars were just starting.
How John MILNE came in 1816 to marry into an Arksey family, hundreds of miles down the Great North Road from Edinburgh (and another 100 plus further miles to Edzell) is itself a fascinating topic to consider. By 1836 the stage coach could get to Edinburgh in about 26 hours. John's accident was on Friday November 10th 1837 and he was carried to Dundee hospital on a "chaise", but died eleven days later. Did his wife make the journey north in time for the burial at Dundee on the 25th, or was she already up north with him, visiting his family? Perhaps the fact that his name was registered as MILAN suggests she, or one of their sons, was already in the area. After his death, Ann continued to run the family market garden business, one of the largest in the north of England according to the Doncaster Chronicle, with the help of her son Thomas and son-in-law Robert MARCROFT, before eventually selling out to the railways when LNER established its engine and coach building works at Doncaster. Seven generations later, though, the MILAN name lives on, in Yorkshire and up and down the country. But what about the families of John's brother James MILL born in 1790? Or Thomas, William, Ann and George MILNE born in the 1770s? The history of the MILNES is so often enmeshed with that of the GORDON clan, of which MILNE is a sept; but as Iain Gray writes (Lang Syne Publishers 2010) "they nevertheless retained their own proud identity, illustrated by their personal motto of 'As much by art as strength' ."